The world has seen a dramatic transition from offline to online mode in recent years owing to the pandemic. From conferences to job fairs, everything can be hosted online nowadays. And so can art exhibitions! A virtual art exhibition is no different from a physically held one. The only difference is the platform. Any suitable virtual art exhibition platform can be used to host a virtual art exhibition. It is all about engagement, and the right virtual exhibition platform is the key to making the event interactive, engaging and lively. Since art is a rather complex subject, hosting it virtually for the very first time can feel a little daunting. Listed below are 7 steps that can be considered while hosting a virtual art exhibition: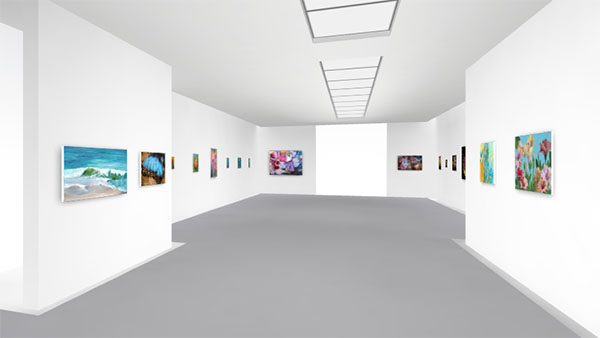 1. Fix objectives
The very first thing that should be done is to fix a goal, set an objective, and have an outline in mind about its execution. With a different objective, there will be a different strategy altogether. Hence, it is necessary to outline if the goal is to get more leads, expand the business, or stick to new or old customers with the same product. Knowing what needs to be achieved facilitates efficient decision-making for further planning.
2. Develop an agenda
It is of utmost importance to outline a clearly defined agenda and make a list of all activities, workshops, and sessions to be added to the event. Simultaneously, a list of topics that need to be covered should be devised along with the variety of performances that will be included. A clearly defined agenda should be sent to the attendees before the event to make sure they are mentally prepared and ready. The attendees also gain insights into the benefits of an exhibition like this. Additionally, a fixed budget should be estimated along with an estimation of the number of funds that can be spent.
3. Marketing and promotions
The most important thing to do before an event is to market it to potential attendees. To promote an art exhibition, social media platforms like Instagram, Twitter, LinkedIn, and Facebook can be used. Something like an introduction video or a teaser of the event can be shot and put up across social media to build hype. Hashtags should be used to increase brand visibility on social media and catch more attention. Influencer endorsements are also a good idea to promote the event. A good marketing strategy promises good engagement during the event.
4. Pick the right virtual trade fair platform
Since it is a virtual art exhibition, a suitable virtual exhibition platform is the need of the hour. Look for a platform that offers all the required features and pay only for those features that will be made use of. One can also check out a virtual medical exhibition platform to ensure the success of the event.
5. Information should be accessible
The virtual art exhibition platform should offer features like downloading the document, documenting presentations, and enlarging content. This allows the attendees to have a chance at consuming superior quality content since it is more accessible to them. If something is conveniently accessible, people comprehend it well and usually have valuable takeaways.
6. Design the environment creatively
Considering it is an art exhibition, the virtual environment should be at par with the vibe of the event's goals. Designing an interactive and attractive setup for the exhibition prevents any boredom among the attendees and promises engagement. The floor plan should be creative and should allow the attendees to simply click on the logo of a certain exhibitor and visit their website. Placing orders will hence become feasible and hassle-free, providing the attendees with a great experience.
7. Exhibition booths should be well-customized
A virtual trade fair platform that allows for exhibition booths to be customized can also be picked. With 3D effects onboard, the virtual experience becomes richer and more engaging for the attendees. Keeping in mind the requirements of the attendees, the virtual event can be tailored to suit their needs. With customization tools, literally, every aspect of the online event can be shaped.
Benefits of virtual art exhibitions:
1. Expanded audience reach
Since online events allow attendees from any location to participate in the event, the reach of the event automatically increases. End number of people can be accommodated in the virtual space with zero hassle.
2. Cost-effective
Online events eliminate costs of travelling, accommodation, logistics, and catering. This results in significant savings for both parties.
3. Eco-friendly
Due to the lack of travel requirements, the carbon footprint is reduced. Fewer carbon emissions are a direct contribution to saving the environment. The need for paper is also eliminated during online events, hence they are eco-friendly.
4. Accessible
Online events are much more accessible than in-person events. An individual can join the meeting by clicking on the meeting URL from any location from any device like a phone or a laptop with zero hassles.
5. Security
Online events are much more secure than physical events in the sense that the host can control who can join the meeting. It is also easy to remove unwanted folks from the event to retain the smooth functioning of the event.
6. Insights
Virtual events offer data tracking in real-time. Valuable insights can be collected from these events. This data is necessary to conclude if the event was productive and if the strategies used were effective or not. Using these insights, future events can be planned in a better way to avoid any mistakes that may have been made earlier.
Conclusion
A virtual art exhibition is a very creative idea and can be easily pulled off with proper planning and effective strategies. With the numerous benefits it offers, it is definitely a safe bet. we changing times and uncertainty looming, and adapting to the virtual way of things is a necessity today to ensure the business' stability. With the right virtual exhibition platform, like Dreamcast, on deck, the success of the exhibition is ensured.