Welcome to the sun-soaked shores of Miami, where golden sands and turquoise waves create a stunning backdrop for endless seaside fun. But the charm of Miami's beaches extends far beyond its picturesque landscape. While sunbathing, swimming, and building sandcastles remain classic beach pastimes, this coastal paradise also serves numerous other activities that turn an ordinary beach day into an unforgettable experience. Experiencing Miami's beaches from a fresh perspective opens up a world of possibilities. It's not just about dipping your toes in the warm waters. This diverse array of activities turns the beach into a playground for adventure, relaxation, and cultural discovery. So, let's uncover some unique activities to enjoy at Miami's beaches, highlighting the city's diverse offerings.
Exploring Miami's Vibrant Marine Life
Miami's beaches are the gateways to a fascinating underwater world with diverse marine life. The warm waters of the Atlantic Ocean are home to colorful fish, corals, and even historic shipwrecks. Explore this submarine biodiversity through snorkeling or scuba diving. Both activities provide an intimate encounter with the marine world, revealing the beauty that thrives beneath the ocean's surface. Various diving centers provide equipment, lessons, and guided tours, ensuring a safe and enjoyable experience for all.
For those seeking an unparalleled underwater adventure, here are some top-notch coastal sites in Miami:
– Half Moon Preserve: Known for its sunken German ship is perfect for diving history enthusiasts.
– Neptune Memorial Reef: An underwater city for marine life and a cremation memorial site.
– Emerald Reef: Renowned for its abundance of colorful fish and intricate coral formations.
– Miami Beach's artificial reef: An ideal spot for novice divers and snorkelers, teeming with sea life.
Miami's Beachfront Yoga Classes
Beachfront yoga is gaining popularity among locals and tourists alike, adding a wellness twist to your Miami beach visit. These sessions offer an opportunity for relaxation and physical well-being, combining the tranquility of the beach with the soothing practice of yoga directly on Miami's pristine sands. Beachfront yoga provides a unique twist to traditional yoga. Practicing asanas with the rhythm of the waves in the background and the sea breeze gently touching your skin amplifies the calming effect of the exercise. It promotes a deeper connection with nature, enhancing the overall experience of mindfulness and relaxation. A wide range of yoga classes are available on Miami's beaches, with offerings to suit beginners to advanced yogis. Some popular spots include the classes at 3rd Street Beach Yoga in South Beach or those provided by Tropical Vinyasa.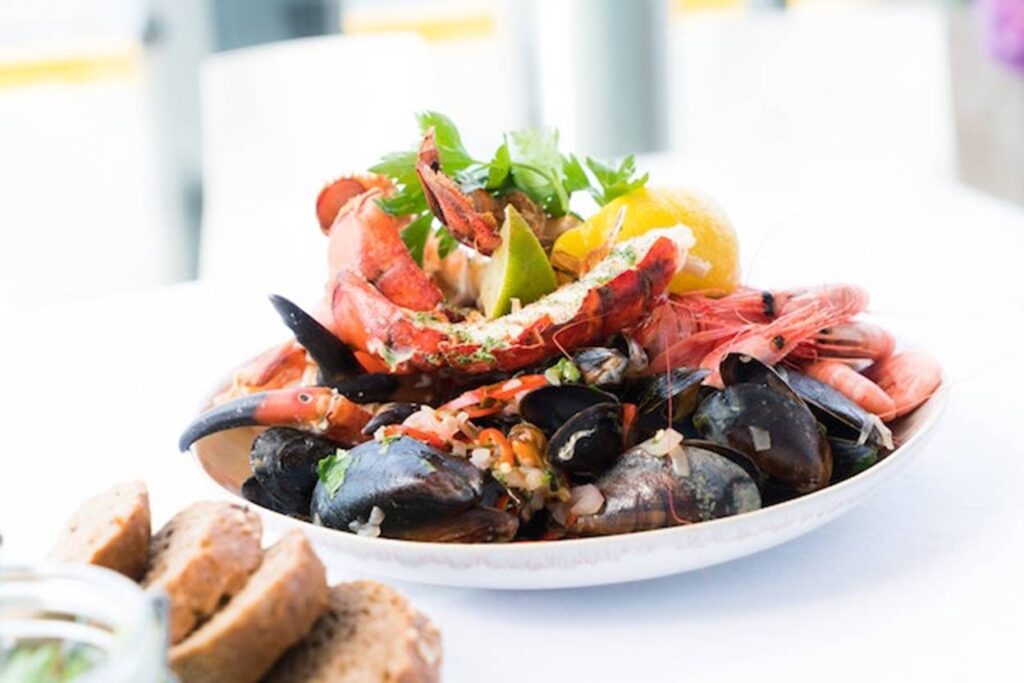 Seafood Culinary Journey in Miami
The connection between the ocean and the plate is wonderfully strong in Miami. The city's seafood cuisine scene is a testament to that. Miami's beachside eateries take the sea bounties and transform them into culinary masterpieces. Whether you're a fan of classic seafood dishes or adventurous culinary choices, Miami's beachfront restaurants cater to every taste. Places like Joe's Stone Crab in South Beach and Garcia's Seafood Grille & Fish on the Miami River are renowned for their delicious offerings.
As for what to try, the list is long and savory. Stone crabs served chilled with mustard sauce are a famous local delicacy. Grilled Mahi Mahi, a local fish, is another must-try, often served with a zesty lime dressing. For a genuine Floridian experience, opt for a bowl of Conch Chowder, a robust stew brimming with flavors. Each bite will reinforce why a seafood culinary journey in Miami must be on your beach agenda.
Enjoying the Nightlife at Miami's Beaches
As the sun sets, Miami's beaches come alive in a different way, and the pulsating rhythm of the nightlife takes over. The city's beachside nightlife is renowned for its vivacity, offering everything from tranquil seaside bars to pulsing dance clubs, turning the night into a fiesta. Miami's beach clubs and bars provide unique experiences that cater to different moods and tastes. Monty's Bar in Coconut Grove offers stunning sunset views and delicious seafood. Baia Beach Club and The Lido Bayside Grill provide chic environments where you can sip cocktails while admiring the sparkling ocean views. Clubs like Story, LIV, and the iconic Nikki Beach Miami, are perfect for dancing the night away amidst energetic beats. If you are planning your move in Miami too and want to hire local movers, reach out to reliable neighbors. They will provide you with a safe and stress-free move.
Water Sports Thrill: Activities to Enjoy at Miami's Beaches
The thrill of Miami's beaches is not limited to the shoreline; the excitement extends to the water. For those with a penchant for adrenaline, Miami offers a wide variety of water sports activities that provide a unique perspective on the coastal city's charm. Kite surfing and paddleboarding are among the favorite water activities that transform Miami's waves into an exhilarating playground. For kite surfing enthusiasts, Crandon Park in Key Biscayne offers excellent wind conditions, while Miami Beach's calm waters make it a perfect spot for paddleboarding. Remember, taking part in water sports activities requires adherence to safety guidelines and injury prevention. Always use the necessary safety equipment, heed weather warnings, and follow instructions from your instructors.
Beachside Art & Culture Tours
There are a lot of activities to enjoy at Miami's beaches. They are also a vibrant canvas for arts and culture. The beachside seamlessly blends natural beauty with cultural expressions. It provides a unique platform for local and international artists. Art installations and sculptures grace the Miami shoreline, adding a touch of creativity to the stunning beach views. Moreover, many beachside areas host cultural events and festivals celebrating various art forms and cultures. Miami is a cultural melting pot. According to the professionals at Pro Movers Miami, besides the bustling economy, it is one of the main reasons why people decide to move here. The city's beachfront art scene is expansive, with notable attractions like the Art Deco Historic District in South Beach, where architectural art comes to life. The Bass Museum of Art holds an impressive collection for contemporary art lovers. Don't miss out on cultural events like the Miami Beach Art Basel, a significant international art fair.
Miami's Beachside Shopping Extravaganza
The beachside neighborhoods teem with shopping options, making them a paradise for retail enthusiasts. From upscale boutiques to quirky local stores, you'll find plenty of venues to satisfy your shopping cravings. Beachside shopping in Miami is a diverse mix of products, featuring everything from designer clothes if you want to up your fashion game to home décor and handcrafted jewelry and unique souvenirs. Stores like The Webster in South Beach offer high-end fashion, while the Lincoln Road Antique & Collectible Market is perfect for unique vintage finds. Remember to explore beyond the well-known retail chains when planning your shopping extravaganza. Dive into local stores to discover unique Miami-themed items. Don't forget to check out any ongoing shopping events for exclusive deals.
Conclusion
The soft white sands and shimmering turquoise waters of Miami's present a world of activities and experiences beyond the ordinary, transforming a beach visit into a journey filled with adventure, relaxation, and cultural immersion. From exploring the vibrant marine life beneath the ocean's surface and balancing on a yoga mat amidst the sea breeze to indulging in delectable seafood delicacies, immersing yourself in the vibrant nightlife, or chasing the thrill with water sports – there's a wealth of activities to enjoy at Miami's beaches. So step beyond the usual beach routine. Embrace the diversity of experiences these beautiful beaches offer and uncover a different side of Miami's beaches, one that will make your visit truly unforgettable.