The audio quality in your video is as important as its visuals. When you record a podcast, the sound should have clarity, depth, and resonance. Remember those early 2000s recorded videos with muffled, echoing, or shrill voices? Surely, you wouldn't want that. Right?
So, to elevate the sound quality of your podcasts and enrich your voice, Audioenhancer.ai offers a solution with just a few intuitive steps.
Read this article and see how this AI audio enhancer tool makes your podcasts sound better and more professional.
How to Record Better Audio for Podcasts?
Before we dive into the nitty gritty of Audioenhancer.ai, let's set the stage by understanding some basics of good audio recording for podcasts.
Firstly, the environment is crucial. Find a quiet room where external noises are minimal. The right equipment also makes a significant difference. While many start podcasting using whatever's handy, a good-quality microphone is a game-changer.
If you notice certain sharp sounds like the 'P' and 'B' sound distortions in recordings, opt for pop filters. They're simple screens that sit between you and the microphone to smooth out these harsh sounds.
Followingly, using closed-back headphones while recording lets you hear your voice in real time and catch any issues on the spot.
Still, if you notice any unwanted background noise, want to enhance the overall sound quality, clear up the speech, or fix the loudness and frequency level after recording, audioenhancer.ai has got your back!
Audioenhancer.ai: The Best AI Audio Enhancer Tool
As the name suggests, Audioenhancer.ai is an AI-powered audio enhancement tool to improve sound quality. It tackles common audio imperfections in both voice and video and delivers sound with greater depth and clarity.
To make your voice sound perfect in podcasts, Audioenhancer.ai deeply analyzes the audio and enhances its quality without compromising the sound's natural essence.
Whether you're dealing with a podcast overshadowed by noises, or loud and distorted sounds, this tool has top-notch features to elevate your audio experience.
Have a look at how Audioenhancer can deliver pristine sound quality that captivates their listeners.
Use Audioenhancer.ai Makes Your Podcast Voice Sound Great
When you have a browser open, go to Google and search for Audioenahncer.ai
The tool's official website will appear on your screen with a straightforward interface with two options:
Upload Media
Select Enhancement Settings
First things first, Audioenhancer.ai allows you to upload media files of both audio and videos up to 50 MBs of file sizes (each).
Audioenahcer.ai's Voice Enhancement Settings
Audioenhancer.ai offers four voice enhancement settings to choose from. All the following options are designed to improve audio and video quality. You can use whichever of these to improve your voice and enjoy a great sound experience.
Additionally, you can choose between mobile video, podcast, education video, lecture, voice recording, interview, professional video, and other types of content.
1. Improve Sound Quality
Central to Audioenhancer.ai's suite of settings is its prowess in enhancing the overall quality of any audio piece. Be it a podcast, an interview, or a video snippet, the AI dives deep into the sound waves, accentuating clarity, depth, and finesse to deliver a product that's nothing short of professional.
2. Reduce Background Noise
In any recording scenario, background noises can compromise audio quality. Select this setting and it will use advanced algorithms to meticulously filter out these distractions. By isolating and minimizing these undesired sounds, it ensures that the main content stands out and you get a clean audio output.
3. Clean Up the Speech
Clarity in speech is paramount, especially in content like podcasts, interviews, and voiceovers. This setting targets vocal imperfections, ensuring words are distinctly audible. Whether dealing with muffled recordings or segments where voices overlap, this feature refines the vocal quality, ensuring each word and phrase is crisply heard.
4. Fix the Loudness and Frequency Levels
A balanced audio output is essential for a pleasant listening experience. This setting addresses inconsistencies in audio amplitude and frequency. By analyzing the entire sound spectrum, Audioenhancer.ai ensures there are no abrupt volume spikes or drops. Moreover, it optimizes frequency levels, highlighting pivotal sounds and toning down less significant ones.
To use any of these enhancement settings in Audioenhancer.ai, you need to choose one before clicking on "Enhance Media." You can select any of these four options for different voices as per your requirements.
Audioenhancer.ai: A Quick User Guide
If you're using this AI audio enhancer for the first time (and even if you've been using it for a while), using it is as easy as ABC.
Upload Your File: Begin by uploading the audio or video file you want to enhance. In case you want to enhance the sound of your podcast, select the podcast video file from your system.
Choose an Enhancement Option: From the four voice enhancement settings mentioned earlier, pick the one that aligns with your file needs,
Select Content Option: Specify the nature of your content by selecting from the provided list. In the case of the podcast, you would select "Podcast".

Preview Media: Before finalizing, preview the changes to ensure you're satisfied with the improvements.
5. Enhance Media: Once satisfied with the preview, click on "Enhance Media" to finalize your audio or video's improved version.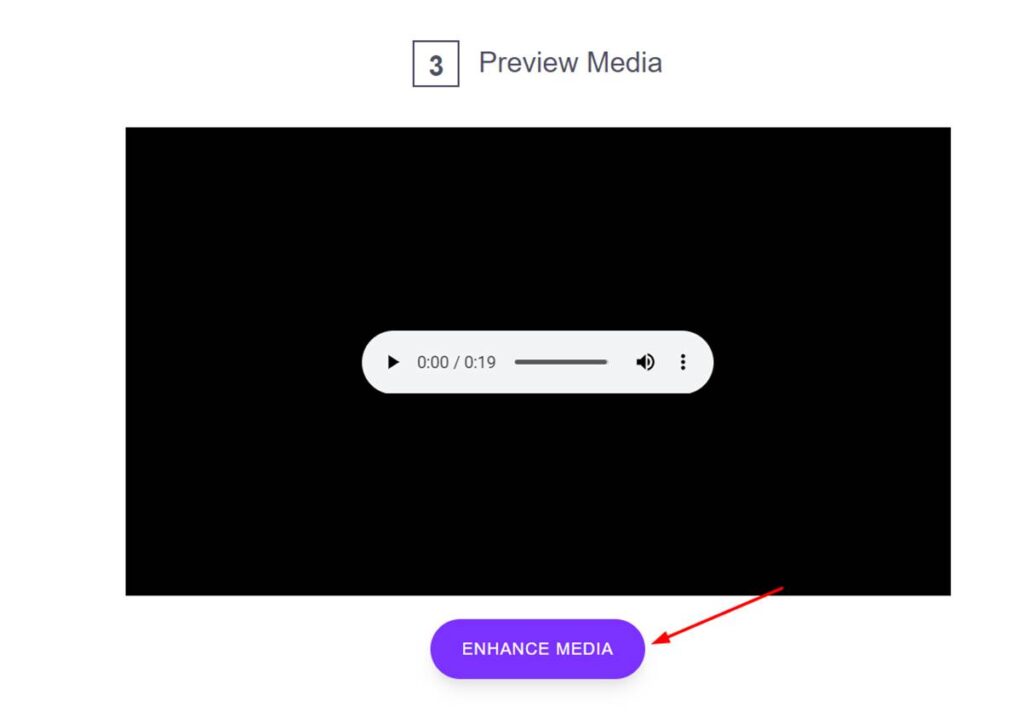 Now, your content is ready to take away with a refined audio quality as per your selected settings!
Final Thoughts
With the AI-powered audio enhancement settings in Audioenhancer.ai, your podcast sounds exactly the way you want it to. It's easy to use and you can adjust the loudness, remove background noise, and improve the overall audio quality to make it sound more professional. The best thing about this audio enhancer is that it is free to use so you will be able to edit and polish the audio anywhere anytime without spending a dime.