As a small business owner (or someone in the marketing team), you are naturally inclined to think of ways to get your company noticed positively. Any creative idea is then weighed against the practical realities of business like budget and purpose.
Breakthroughs don't come easy; that's why you are here. And that's why we are here to help you by recommending clever and cost-effective ways to promote your business.
1. Conduct a Social Poll
Polls on Twitter, Instagram, and Facebook enable users to interact with your brand effortlessly. These social media polls are fun and easy to answer, requiring only a few seconds of one's time to vote.
Hold a poll asking people their favorite holiday or drink that they want to be on your menu again. Of course, if you've made a promise in your poll, be sure to keep it.
You can blog the poll results or create shareable and branded infographics. For something that costs little to nothing to implement, a seemingly ordinary social media poll can yield extraordinary results.
2. Partner with an Influencer
Influencers each have a loyal fan base and high engagement rate as noticeable signs of the power they wield. For a more comprehensive picture of their influence and to find the most suitable person for the job, you can turn to digital tools and platforms.
One secret to successful partnerships with influencers is being on the same page with them. Set specific goals, communicate those clearly with the influencer who, in turn, will pass it on to their audience, and do your research on influencer marketing. When it comes to hiring influencers, you've also got to be prepared financially.
3. Collaborate with an Unlikely Partner
This idea might seem contradictory to the point above, until you realize that you are still tapping someone of influence only that it's not the person people would have expected you to be. The "crossover" would not only be attention-grabbing but also mutually beneficial as you both share the same goals.
Unexpected partnerships extend to brands that have collaborated with other brands from different industries to create a unique and exciting synergy. Do you have a brand you want to work with? Learn from these famous examples.
4. Venture into Videos
It's hard not to see the power of videos or follow the lead of marketers who found them effective in reaching their business goals. The material for your videos is pretty diverse, including formal promotional videos and fun trend-based clips. As for equipment, a smartphone, camera, mic, laptop, and storyboard are a good starter kit.
Videos are already consumable as a content format, so just have to make them more engaging and concise, like really bite-size. Control the look and messaging of your video content. Moreover, put captions for those who'll watch these reels without sound.
5. Catch Their Attention with a Tune
A jingle may not be necessary for your videos now, not to mention that it costs a lot to be made. But for branding purposes, make the background music distinct and memorable. There's royalty-free music for commercial use for starters.
Check out platforms that have catalogs of tracks accessible for a subscription. YouTube also has a digital library for free music and sound effects. Be informed of licensing, attribution, and limitations surrounding the use of music.
6. Produce Evergreen Content
Informative articles, videos, and the like keep your blog relevant and useful to your audience. Tips, how-tos, and insights about the industry, which you know intimately about, are examples of fresh content.
Evergreen content is inherently relevant, as it is supposed to remain true for a long time. Except for the periodic tweaks to reflect important developments, a well-written resource is a worthy addition to your virtual library. Maintaining relevant content on your website is an organic way to drive website traffic and increase its credibility.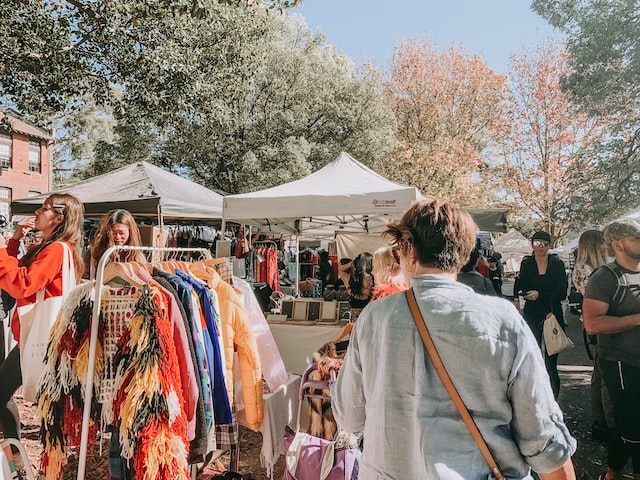 7. Hold Offline Events
With top-notch planning and management, in-person corporate events can be effective venues for promotion. A pop-up store, for example, can be a great opportunity to meet some of your customers and get quick feedback. You can even have a photo booth or offer giveaways.
Another example is a product launch designed like a workshop. You can opt to invite fewer guests, consisting of bloggers and content creators. Smaller gatherings are less costly to pull off and easier to control in light of safety and health protocols.
8. Give Gifts
A free gift is something a customer can remember you by and maybe encourage them to buy again. This gift can be offered with a certain product and explicitly stated as such. Or a surprise that a customer finds when they unbox their package. Either way, this gift conveys your appreciation for people supporting your business.
Gift cards also present a viable option, along with company items and custom products. If giving physical goods is not plausible, try looking into discount codes and deals. Be very clear on the terms and conditions, and you are good.
9. Pack and Deliver It Custom
Customization is your direct answer to competition. Every single detail that goes into your packaging should be unique and on-brand. A customized box creates a certain level of exclusivity and boosts the appeal of your product, something that the customer may be happy to share on their social media accounts.
Packaging is more than just meets the eye. It must protect the contents and keep them secure throughout the journey from the packing center to the doorstep of your customer. Eco-friendly is the sustainable way of doing things, so consider this when designing your packaging.
10. Respond to Online Reviews
Product reviews influence people to make purchase decisions, according to research. For users, reviews contain additional details about the product or the general experiences that might be useful to them. For your business, reviews present an opportunity to promptly resolve and clarify issues.
Responding to reviews confirms that you are listening: the good reviews you can appreciate while the negative ones you can address right away. It makes sense to reveal the actual steps you'll be taking to reassure the customer. Also diligently going through reviews nips any rumors or false claims about your business in the bud.
11. Strive for Great Customer Service
The point above demonstrates good customer service, which is a standard but still bears repeating nonetheless. Swift handling of complaints (and the usual queries) not only satisfies the parties involved but also those who would come across the issues online.
Prioritizing staffing and technology to better serve your customers doesn't necessarily entail additional cost since it's part of your budget, anyway. Build your business to be responsible and trustworthy. Good reputation equals best promotion.
12. Advertise, as Always
The Internet has afforded businesses more flexibility when it comes to advertising. For a small budget, you can advertise on Google, appear on the first page of its search results, and achieve more exposure for your business. That's a tall order, but it can be done.
One critical element to your Google Ads success is communicating what's so great about your business. Is it free shipping, no-expiry-date food, or 50% discount on all items? Let the user know that they'll be missing out on a golden opportunity if they don't click the ad.
Your Google Ads performance has a huge room for improvement. Consider consulting experts to see the results you want. As an agency specializing in Google Ads, Grow My Ads can help grow your PPC campaigns.
Final Thoughts
So we have curated ideas that help you promote your business. These have worked with numerous businesses and can be made applicable to your unique circumstances with custom tweaks and data-driven strategies.
What you lack in budget for big-scale advertising and marketing efforts, you can certainly make up for with positive buzz for your biz online and offline.